ARTICLE
ACA Pacific Partners with Atsign
We recently joined forces with ACA Pacific and are excited to bring our technology to the Asia-Pacific region. Keep reading for our full press release and to learn more about our newest partner. 
ACA Pacific Partners with Atsign to
Deliver Unprecedented IoT Security
Technology in APAC Region
ACA Pacific becomes an Atsign distributor in Singapore to deliver zero attack technology to secure the region's growing IoT investments.
SAN JOSE, Calif., March 28, 2023 (GLOBE NEWSWIRE) — ACA Pacific Singapore (ACA Pacific Technology(S) Pte Ltd), an established IT marketing and value-added distributor in the Asia-Pacific region, has partnered with Atsign, Inc., a leader in IoT security, to bring game-changing IoT device security technology to the region. The rapid adoption of IoT devices in the region has led to a dramatic increase in criminal hacking groups attacking these devices to gain access to various organizations, as well as the government's critical infrastructure.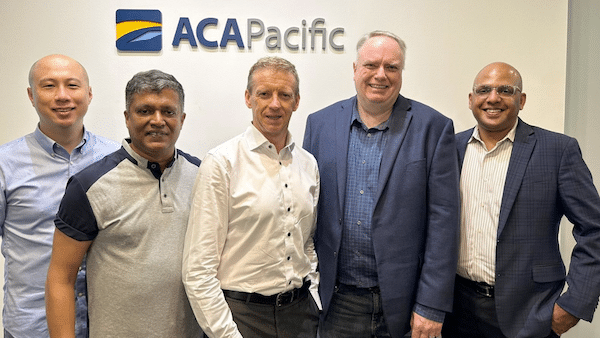 Left to right: Shaun Huang, Harry Yohannan, and Craig Gledhill from ACA Pacific; Colin Constable and Anthony Prakash from Atsign
ACA Pacific Group will offer Atsign's technology platform to eliminate all network attack surfaces (i.e. having no open ports) which will thwart these cybercriminals, protect IoT devices, and save costs over traditional, complicated, and less secure means of protecting IoT devices. Atsign will work closely alongside ACA Pacific's broad ecosystem of partners to deliver industry leading cybersecurity solutions across industries and use cases.
"I couldn't be happier about this new partnership with ACA Pacific," says Barbara Tallent, CEO of Atsign. "Their knowledge of the APAC market and great reputation with their clients is a powerful step forward for our goal of providing protection and privacy to more business customers in the region."
Craig Gledhill, CEO of ACA Pacific, discussed the partnership, stating that the fast rollout of 5G in the APAC market has led to a significant growth in IoT. However, this rapid expansion has also resulted in a significant security gap. Gledhill expressed excitement about partnering with Atsign to provide their technology as a cost-effective solution to address this very important issue. The technology is expected to be a great fit for many of ACA Pacific's customers and partners.
About ACA Pacific Group
ACA Pacific Group is an established IT marketing and value-added distributor since 1986 across the Asia-Pacific region. Solutions offerings include selecting and integrating only the "Best-of-Breed" software and hardware to meet customers' requirements.
Learn more at https://aca-apac.com
About Atsign
Atsign is an award-winning technology company that believes the privacy and security of every person, organization, and device is a fundamental right, and they're working towards making it a reality. They won the 2022 IoTSF Champion award and the 2023 IoT Global Award for Securing IoT.
Revolutionary remote access tool, SSH No Ports, launches version v4 with Windows support and expanded SDK.
read more