ARTICLE
Happy Birthday to Us (and Our Community)!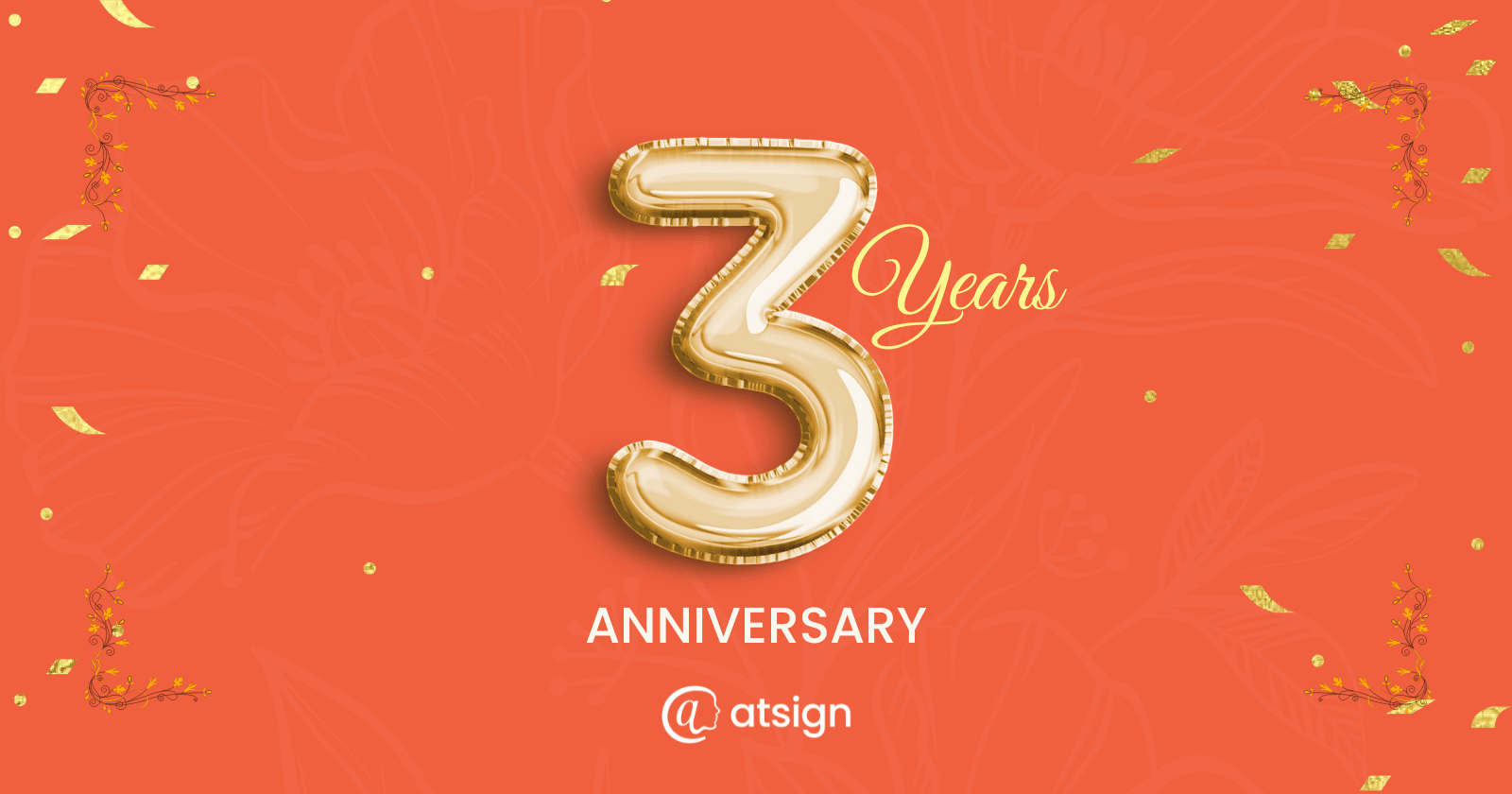 Hey everyone! Atsign is turning three years old!  🥳
We started off life as The @ Company, but now, we are a little bit older, a little bit wiser, and have decided to embrace what most people call us anyway: Atsign. We take pride in helping people preserve their privacy online, but perhaps we were a little too difficult to find with our previous name.
We are still very much the same Atsign, focused on making the Internet more human, and placing people at the center of everything we do.
Here are a few noteworthy updates we'd like to highlight as we celebrate three years:
Interns, Glorious Interns!
For the third Summer in a row, we have assembled a stellar group of interns. This year, we're welcoming thirty-nine of them. (Yes. 39!) Just like the rest of our team, our interns represent quite a few different countries and continents; they come from Zimbabwe, Argentina, Canada, Bermuda, Singapore, Tanzania, the United States, India, Spain, and Turkey. We are excited to see all the @magic everyone will bring.
All the Things!
This year, we started thinking outside of the app box; we are welcoming IoT (The Internet of Things) as well as some extremely useful utilities into the atPlatform playground. Of particular note, is "Ssh! No ports," a tool that provides ssh to a remote device without that device having any open ports.
It Takes a Village!
Thank you to our community. We love engaging with you on our Discord server and on Twitter. We have a phrase, "Treat people as people, not users," and we cherish the relationships we have with each of you. We hope that you will continue to engage with us and support us in our mission to flip the Internet.
Atsign from the Inside
Our team reflects on three years of Atsign, starting with our three Co-founders:
@barbara: It was three years ago when I got that call from Kevin: "Are you in?" he asked. We had just had a dinner in Mountain View where I got to meet Colin and some other folks who were interested in what Kevin and Colin were brainstorming. The dinner was engaging and intriguing, and you could already feel the @magic in the air.
"I am in!" I said, even though my circumstances were extremely complicated at the time. I was ready to put it all on the line, and I really wanted to be a part of putting people at the center of the Internet.
Funny, as I was writing this I got a text for Kevin and Colin to hop on a call to discuss something. I always drop everything and hop on a call whenever it involves those two. I know that it will be a great discussion and that we probably won't agree on many things, but I will always learn something. Here we are, three years later, and I could not have anticipated how much I love working with these guys. But it is not just Colin and Kevin; we have added amazing members to the team, and now I have so many more people to learn from, including that fabulous group of interns that we just added!
Every month, we write an update to our investors and friends on our progress, and I am always amazed at what this small team has accomplished. My son, who is a retired Marine, talks about how great it is to be part of an elite team. I know exactly how that feels! Keep an eye on us over the next three years; you won't be disappointed!
@colin: From a discussion over a cup of coffee to writing some really basic code, then being told that it's impossible and ambitious–fast-forward three years. Atsign is obvious, relevant, and needed. How did that happen? Through people and a challenge that is bigger than any one of us, where everyone can contribute in their own unique way, and where there are no borders or hierarchies. Most importantly, where the fun and the challenge are infectious. Huge thank you to everyone who has been part of our journey, and to those who are just hearing about us now, come join us and get involved.
@kevin: The best part of the journey over the last three years for me is the amazing group of people that have come together to create this company. There are so many wonderful stories about how that came to be which is the bedrock foundation of the culture of the company. The result is so much talent, not afraid to do what others say is impossible, with all barriers to excel removed, getting an amazing amount of real innovation done as a team. So much for us still to do, but what an amazing ride to date.
@anthony: Back in 2020, when I was looking for a job change the founders heard about it and asked me, "Why would you look for a job? We have plans for you here in the company." Almost two years later, it has been a joy ride for me–so much learning, so much fun, so much accomplished but we are still barely scratching the surface.
Xavier: This all started for me because Tyler decided to read a book at the library one day. Somehow, through some miraculous chain of events, I ended up here. I am so glad that Tyler decided to read that book! 
Jeremy: 3 years, 3 steps closer to flipping the Internet! 
Minnu: 3 years isn't a small time. I'm glad that I've shared 1 year of it. One of the best ideas I have heard about storing data securely without worries. Thanks to Anthony for getting me into this. Whatever happens, I won't stop working on this tech even after my 60's. One of the best teams (actually the only best team) I ever got till date. 
@zarafrancisroban: 3 years of an amazing and exciting journey! Looking forward to many more celebrations and opportunities to flip the Internet and put people first.
@K: Back in November 2019 I met @colin, @kevin, and @barbara (one of the last meetings in SV before the world changed with Covid). They outlined their ideas and how they planned to Flip the Internet, putting people front and center! It took 3 people to start and every step has been achieved thanks to each additional person who joined the adventure! In 2019 it was so exciting to think about what was possible with good technology and 3 years later, with all the amazing people who've joined, it is even more exciting and inspiring. It's @magic! It takes a village, and this village is changing our connected world for the better every day! Happy Birthday, Atsign!!!!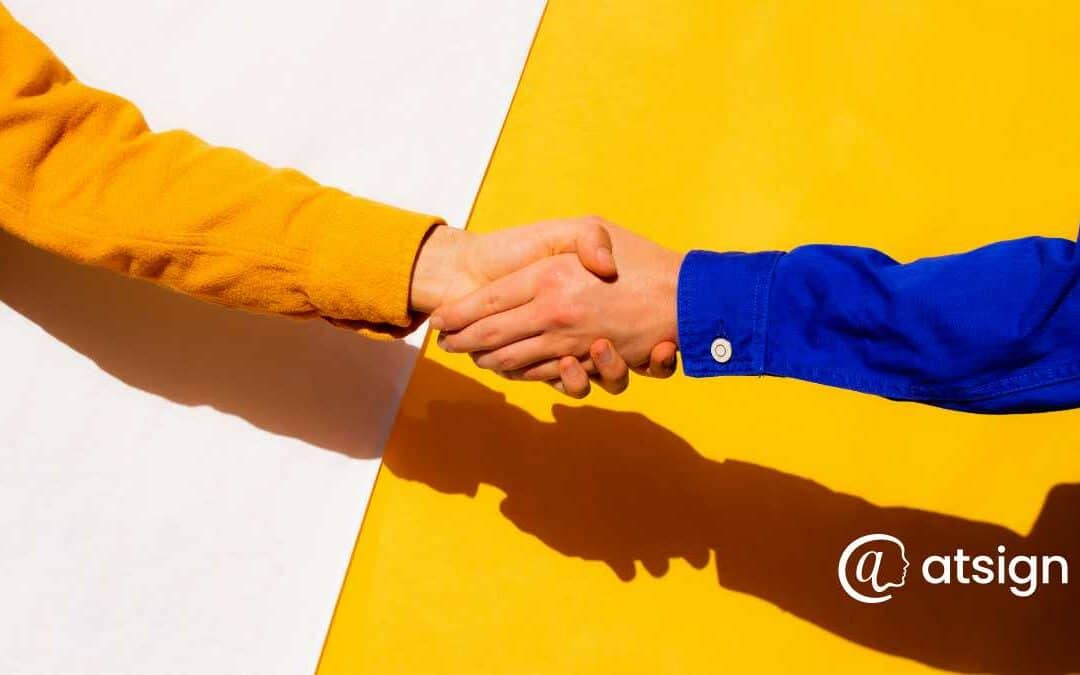 Atsign is offering an opportunity to invest in a SAFE round in their Equity Crowdfunding Campaign. Find out what a SAFE round really means, and how it can benefit you as the IoT market continues to grow exponentially.
read more