ARTICLE
Atsign at The Things Conference
by Anthony Prakash, Atsign Go-to-Market Specialist
All About Gateways
It was February 2023, and the FIRA event space in Barcelona was bustling with activity. Security was tight, as the King of Spain and his delegation had recently visited the IoT World Congress event, where Atsign and our partners were participating.
The exhibition floor was buzzing with excitement, and for good reason! Colin Constable and Anthony Prakash were manning the Atsign booth when they were approached by a visitor interested in their thoughts on the LoRaWAN® market. Colin, being his usual candid self, gave his unvarnished opinions about what the market is doing right and wrong. After 10 minutes of intense discussion about the state of the LoRaWAN, the visitor introduced himself as Wieke G, CEO of The Things Industries. Having heard about Atsign's SSH No Ports and seen the demo, he encouraged us to expand into the LoRaWAN community as well.

Fast-forward 10 months–Atsign just participated in our first Things Conference event in Amsterdam, showcasing our LoRaWAN offering and all the progress that we have made in the market since our February discussion. In Amsterdam, we had our own booth and we were supported by our partners from ZARIOT.
Our Showcase
In the months leading up to The Things Conference, Atsign has been working with several LoRaWAN gateway manufacturers like RAKwireless, Dragino, Contec and others (whom we cannot mention here just yet) to make gateway management easy, safe and extremely foolproof. Based on Networking 2.0 principles, our gateway management offering allows gateways to run without opening any network ports which translates to ZERO network attack surfaces. Despite this, anyone with access to the device can still connect remotely from anywhere on the Internet. This functionality is brought to life by Atsign's atProtocol and SDK.
Our Demos
We have been collaborating with our friends from RAKwireless to implement Atsign's technology on RAK LoRaWAN gateways. At our booth we had a live demo remotely connecting into a RAK gateway connected to a LAN. If the LAN connection is disconnected for any reason, the gateway automatically picks up the 4G connection from our partners at ZARIOT. As an administrator, the connection and experience is seamless, all while having no network attack surfaces on the gateway.  We also got a gift and a challenge from our friends at Dragino–they handed us a Dragino LoRaWAN gateway for us to install our technology on. Colin got it up and running that same evening, so the Day 2 demo showcase included both RAK and Dragino gateways.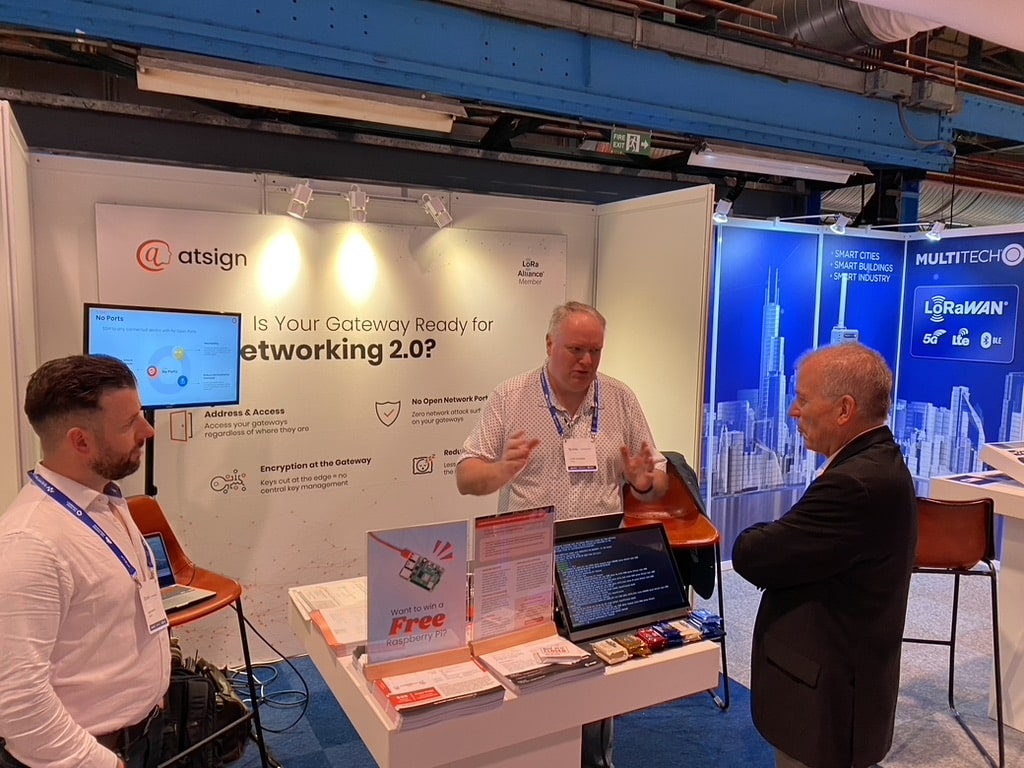 Feedback & Reception
The feedback and reception from the attendees and the other partners was incredible! Several other gateway manufacturers will soon implement Atsign's technology on their gateways, or roll it out to their user bases. We also have several customers who have asked us to look into various use cases that include Agriculture, Airports, Industry 4.0, and others. We walked away from Amsterdam feeling really excited for all the great things to come from Atsign for the LoRaWAN market.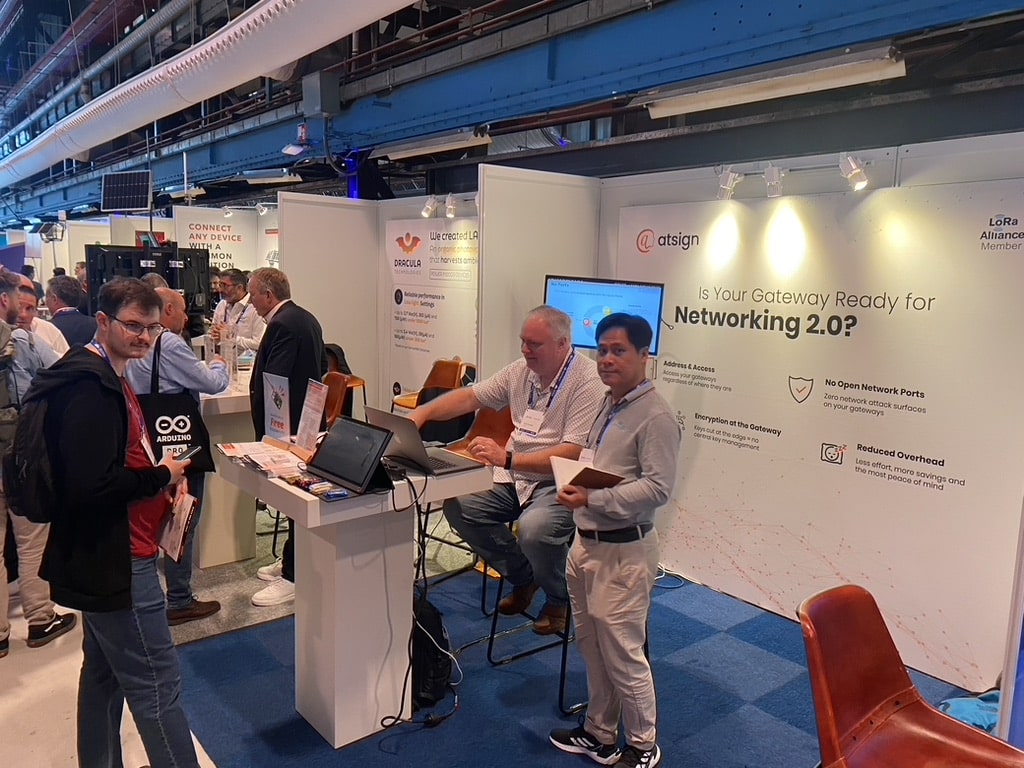 What to Expect Next
Atsign will soon launch a GUI version of our SSH No Ports tool, the backbone of our gateway offering. We will also add several new features to our Enterprise version, and work closely with LoRaWAN community vendors, the LoRa Alliance®, and our clients to enhance our offerings for this community.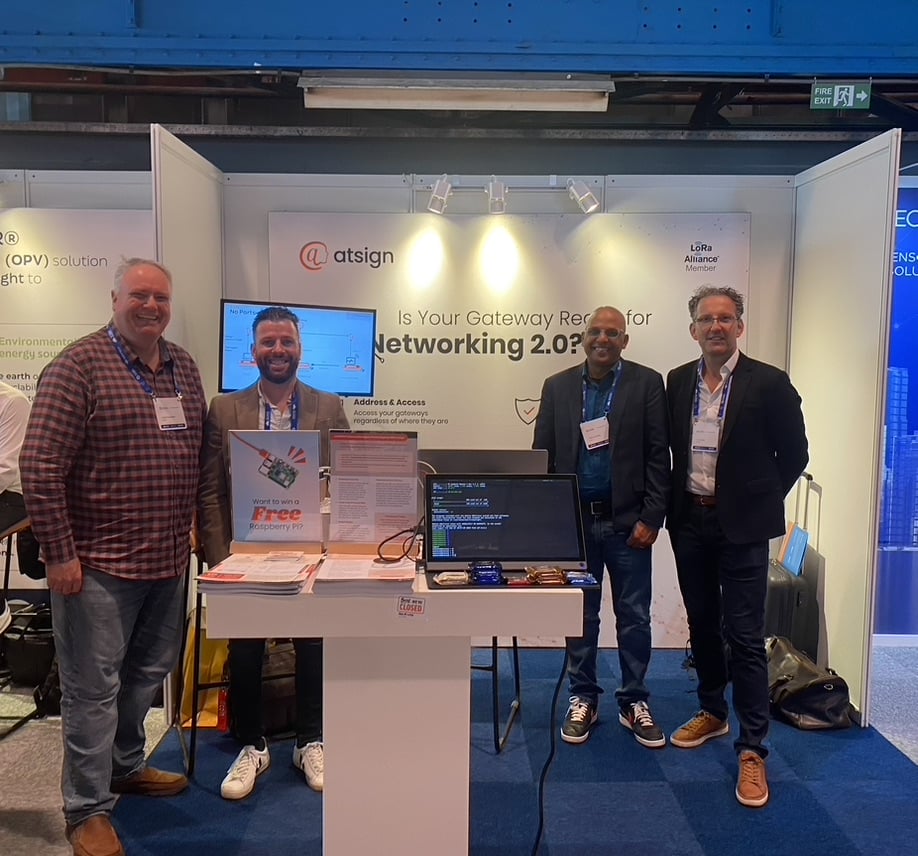 Credits
Kudos to the entire gang at The Things Industries for putting on a great show. The event space was incredible, the two days were so well organized, and the content across the speaking events and the workshops was impressive. Atsign was honored to be a small part of this amazing community.
Revolutionary remote access tool, SSH No Ports, launches version v4 with Windows support and expanded SDK.
read more